11/07/2017 -

7:00pm

to

8:00pm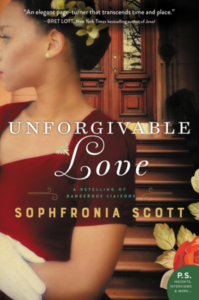 OUR BOOK CLUB PICK FOR November 2017 | Unforgivable Love: A Retelling of Dangerous Liason's by Sophronia Scott

On the first Tuesday of every month, The Bookstore Plus hosts a unique Book Club experience where readers have the opportunity to discuss the book club pick with the author via video chat! Tuesday, November 7th, 2017, at 7:00 pm author, Sophfronia Scott, will join us to discuss and answer questions about her book, "Unforgivable Love: A Retelling of Dangerous Liaisons" via video chat. Our book club is open to the public. To honor the author's valued time, we highly recommend that you read the book and browse through any provided book club guides prior to attending the book club meeting.
BOOK SUMMARY |
In this vivid re-imagining of the French classic Les Liaisons Dangereuses, it's the summer when Jackie Robinson breaks Major League Baseball's color barrier and a sweltering heat has Harlem's elite fleeing the city for breezier Westchester County. But two schemers there prowl amid the manicured gardens and fine old homes.
In Harlem 1947, Jazz may be king, but heiress Mae Malveaux rules society with an angel's smile and a heart of stone. She made up her mind long ago that nobody would decide her fate. Marriage, money, freedom… Mae wants complete control. To have the pleasure she craves, control is paramount, especially control of the men Mae attracts like moths to a flame.
Valiant Jackson is accustomed to getting what he wants—and he's wanted Miss Malveaux for years. The door finally opens for him when Mae is slighted by her former lover Frank Washington, and she strikes a bargain: seduce her virginal young cousin, Cecily, who is now engaged to Frank, a man who values Cecily's innocence above all else. If Val is successful, his reward will be Mae.
Unbeknownst to Mae, Val seeks another, an even more, valuable prize. Elizabeth Townsend is fiercely loyal to her church and her civil rights attorney husband. She is certain that there is something redeemable in Mr. Jackson. Little does she know her most unforgivable mistake will be Val's greatest triumph. But for all their scheming, Mae and Val are unprepared for what can happen between a man and a woman when the thrill of the chase spirals wildly out of control.
ABOUT THE AUTHOR |
Sophfronia Scott grew up in Lorain, Ohio, a hometown she shares with author Toni Morrison. Her father was a Mississippi-born steel worker who never learned how to read and her mother was a stay-at-home mom who always made sure there were books in the house. She holds a BA in English from Harvard and an MFA in writing from Vermont College of Fine Arts. Sophfronia spent a big chunk of her career as a writer and editor for Time and People where she developed the uncanny ability to create order out of chaos by whittling massive amounts of facts and ideas into a single cohesive form. She also co-authored the groundbreaking cover story "Twentysomething," the first study identifying the demographic group known as Generation X.
When Sophfronia's first novel, All I Need to Get By, was published by St. Martin's Press in 2004 Sophfronia was nominated for the best new author at the African American Literary Awards and hailed by Professor Henry Louis Gates, Jr. as "potentially one of the best writers of her generation." Her essays, short stories, and articles have appeared in Killens Review of Arts & Letters, Saranac Review, Numéro Cinq, Ruminate, Barnstorm Literary Journal, Sleet Magazine, NewYorkTimes.com, More, and O, The Oprah Magazine. She has forthcoming an essay collection, Love's Long Line, from Ohio State University Press/Mad Creek Books, and a spiritual memoir, This Child of Faith: Raising a Spiritual Child in a Secular World, co-written with her son, being published by Paraclete Press.
Sophfronia lives in Sandy Hook, Connecticut with her husband and son and where she continues to fight a losing battle against the weeds in her flower beds. She enjoys teaching on the faculty of Regis University's Mile-High MFA in Denver, Colorado, Bay Path University's MFA in Creative Nonfiction, and the Fairfield County Writer's Studio in Westport, Connecticut.

$15.99
ISBN: 9780062655653
Availability: On Our Shelves Now
Published: William Morrow Paperbacks - September 26th, 2017
"At once beautiful and ominous, visceral and ethereal, tragic and fulfilling, UNFORGIVABLE LOVE is a genuinely moving novel of love and loss and the treacherous paths we make for ourselves when we let our passions run away with us. Sophfronia Scott has given us a book that will last, an elegant page turner that transcends time and place."

Bret Lott , New York Times bestselling author of JEWEL

"Complicated characters, unbearable tension, heartbreak, and betrayal make UNFORGIVABLE LOVE an absorbing read. Sophfronia Scott is a master storyteller with an enormous capacity for compassion, capable of finding hope in the most hopeless circumstances, redeeming the unredeemable, and demonstrating the transformative power of love. Deeply poignant."

Erika Robuck, National Bestselling Author of HEMINGWAY'S GIRL
---