The Lost for Words Bookshop: A Novel (CD-Audio)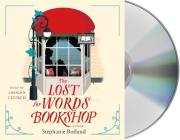 $39.99
Usually Ships in 1-5 Days
Description
---
The Lost for Words Bookshop is a compelling, irresistible, and heart-rending audiobook from author Stephanie Butland
Loveday Cardew prefers books to people. If you look carefully, you might glimpse the first lines of the novels she loves most tattooed on her skin. But there are some things Loveday will never, ever show you.
Into her hiding place - the bookstore where she works - come a poet, a lover, and three suspicious deliveries.
Someone has found out about her mysterious past. Will Loveday survive her own heartbreaking secrets?
Praise for The Lost for Words Bookshop:
"The Lost for Words Bookshop pushes all my bookish buttons."—Red (Books to Read)
"Quirky, clever and unputdownable."—Katie Fforde
"Burns fiercely with love and hurt. A rare and beautiful novel."—Linda Green, bestselling author of While My Eyes Were Closed
About the Author
---
Stephanie Butland lives with her family near the sea in the North East of England. She writes in a studio at the bottom of her garden, and when she's not writing, she trains people to think more creatively. For fun, she reads, knits, sews, bakes, and spins. She is an occasional performance poet.
Stephanie is the author of The Lost for Words Bookshop.