The Forgetting Time: A Novel (CD-Audio)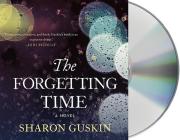 February 2016 Indie Next List
---
"Psychologist Dr. Jerry Anderson is literally losing his mind -- aphasia is taking away his memory and his ability to communicate - when he is introduced to the severe behavior problems of four-year-old Noah. From the few clues, it seems Noah has lived a previous life. Anderson fights to keep his lucidity long enough to complete this final investigation of his career, trying to make sense of this young boy while also attempting to make sense of his own life. A compelling, dynamic, and intriguing debut novel."
— Allen Murphy (M), Joseph-Beth Booksellers, Cincinnati, OH
Description
---
Noah wants to go home. A seemingly easy request from most four year olds. But as Noah's single-mother, Janie, knows, nothing with Noah is ever easy. One day the pre-school office calls and says Janie needs to come in to talk about Noah, and no, not later, now - and life as she knows it stops.
For Jerome Anderson, life as he knows it has stopped. A deadly diagnosis has made him realize he is approaching the end of his life. His first thought - I'm not finished yet. Once a shining young star in academia, a graduate of Yale and Harvard, a professor of psychology, he threw it all away because of an obsession. Anderson became the laughing stock of his peers, but he didn't care - something had to be going on beyond what anyone could see or comprehend. He spent his life searching for that something else. And with Noah, he thinks he's found it.
Soon Noah, Janie and Anderson will find themselves knocking on the door of a mother whose son has been missing for eight years - and when that door opens, all of their questions will be answered.
Sharon Guskin has written a captivating, thought-provoking novel that explores what we regret in the end of our lives and hope for in the beginning, and everything in between. In equal parts a mystery and a testament to the profound connection between a child and parent, THE FORGETTING TIME marks the debut of a major new talent.
The program features an interview with the author.
About the Author
---
SHARON GUSKIN lives in Brooklyn with her husband and two sons.
The Forgetting Time
is her first novel.
David Pittu is a two-time Tony nominee, and has narrated over 36 audiobooks, including Donna Tartt's The Goldfinch, which earned an Audie for literary fiction and best male narrator. His other work includes The Marriage Plot by Jeffrey Eugenides and An American Spy by Olen Steinhauer. Pittu has also read for Rick Riordan, Ann Rice, and Keigo Higashino, among others.
Well-known for his work in theater, Pittu has appeared off-Broadway in LoveMusik and Is He Dead, for which he received his Tony nominations, as well as Parade, for which he earned a National Broadway Award for Best Actor in a Musical. He is also a writer, member, and director of the Atlantic Theater company. He lives in New York City.
Susan Bennett
 is known for her radio and television voiceover work. She has narrated a host of audiobooks, including those from bestselling authors Peggy Post, Linda Francis Lee, Dorothea Benton Frank, Emma McLaughlin, and Nicola Kraus. Her reading of
Tiger, Tiger
by Margaux Fragoso won an
AudioFile
Earphones Award. In describing Susan's reading style,
Publishers Weekly
has said, "Bennett's narration is excellent: she draws the listener into the story... keeping the pacing brisk and entertaining." Susan also dabbles in the music industry as the singer and keyboardist for The Interactive! Band. Along with her guitarist husband, Rick Hinkle, Bennett is the co-owner of Audiocam Music, a full service recording studio.
Praise For…
---
"Susan Bennett, portraying Janie, and David Pittu, portraying Dr. Anderson, create a thought-provoking listening experience. Bennett employs a whole range of emotions, from anger and confusion to peace and acceptance as Janie tries to find answers for her troubled child. Pittu gives a nuanced voice to the psychiatrist, who is racing to regain his reputation and defend his past-life theory before he succumbs to a devastating health problem." -AudioFile.com
"Because the story is told in third person, there's some overlapping of character portrayals. It's a testimony to the narrators' skills that these dual characterizations enrich and reinforce rather than detract from the telling. The pitch-perfect vocalizations add the perfect touch of drama and emotion to the complex story and vividly drawn characters, making it a memorable listening experience." -Booklist