Flip-a-Feather: a mix-and-match board book (Board book)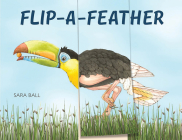 Description
---
Flip and flop heads, tails, and bodies to make 1,000 remarkable birds!
From the best-selling illustrator of
Mix-a-Mutt
,
Flip-o-saurus
, and
Flip-o-storic
comes another book with charming artwork and die-cut pages for mix-and-match fun—this time with birds!
Flip-a-Feather
lets you create wacky combinations of ten types of birds, including a majestic bald eagle, an eye-popping resplendent quetzal, and an inquisitive macaroni penguin.
Each flap features a fun fact about the pictured species, and inside the front cover is a chart showing the relative sizes of the birds featured, from the hummingbird to the ostrich.
About the Author
---
Sara Ball is a prolific illustrator of children's books, including Abbeville's Mix-a-Mutt, Flip-o-saurus, and Flip-o-storic.
Praise For…
---
A split-page format turns 10 birds into hundreds of avian chimeras in this mix-and-match portrait gallery.  As in her equally fetching Mix-a-Mutt (2018), Ball uses empty backgrounds to showcase invitingly big, bright, exactly detailed animals that somehow seem to be smiling up at viewers or down at fuzzy offspring even though they're not anthropomorphized. Flipping heads, bodies, and hindquarters results in some odd combinations ("I'm a Snowy Owl—Ostrich—Bald Eagle bird"), but the subjects are placed, posed, and scaled so that . . . even the most unlikely transitions at least match neatly.

— Engaging flights of fancy and fact

Fans of Sara Ball's titles Mix-a-Mutt and Flip-o-saurus will be delighted to welcome Flip-a-Feather. . . a full-color board book cut into flip-able flaps so that the youngest readers can create creatures such as Pelican-Silkie-Owl and Humming-Bald Eagle-Quetzal. . . Each flap features a fact about the pictured species, such as a keel-billed toucan's favorite meal (fruit, insects and lizards) and the length of an ostrich's neck (nearly a yard). Flip-a-Feather is tons of fun for children ages four and older.

— Brandy Hilboldt Allport

This playful, oversize board book showcases a bevy of birds. . . For instance, turning the flaps can reveal the head of a hummingbird, the torso of an ostrich, and the feet and tail of a penguin. . . Each flap also has a few sentences of information about the birds, and an opening chart with . . . size comparisons is particularly handy. A silly but still informative introduction to birds.