Exclamation Mark (Hardcover)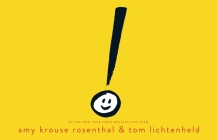 $17.99
Usually Ships in 1-5 Days
Description
---
From the bestselling creators of Duck! Rabbit!, an exciting tale of self-discovery!A perfect gift for graduation!He stood out here. He stood out there. He tried everything to be more like them. It's not easy being seen. Especially when you're NOT like everyone else. Especially when what sets you apart is YOU.Sometimes we squish ourselves to fit in. We shrink. Twist. Bend. Until -- ! -- a friend shows the way to endless possibilities. In this bold and highly visual book, an emphatic but misplaced exclamation point learns that being different can be very exciting! Period.
About the Author
---
Amy Krouse Rosenthal and Tom Lichtenheld are NYT bestselling and award winning creators of many books they've shaped together and individually. As a team, they've created the bestselling EXCLAMATION MARK!, DUCK! RABBIT! and WUMBERS. Amy is the author of HIGHLIGHTS OF YOUR LIFE with Sara Gillingham and SPOON, illustrated by Scott Magoon, as well as many other books. Tom is the illustrator of GOODNIGHT, GOODNIGHT, CONSTRUCTION NIGHT Site written by Sherri Duskey Rinker and ONE BIG PAIR OF UNDERWARE by Laura Gehl. Tom and Amy, who are friends, both live in the Chicago area. Please visit Amy at whoisamy.com and Tom at tomlichtenheld.com.

Tom Lichtenheld is the illustrator of New York Times bestsellers Duck! Rabbit!, Exclamation Mark, Steam Train, Dream Train, Shark vs. Train, Mighty, Mighty Construction Site, and Goodnight, Goodnight, Construction Site, which has been on the bestseller list for over three years. He has also written and illustrated a number of books, including What Are You So Grumpy About?, Cloudette, and E-mergency, a Publishers Weekly and Boston Globe Best Book of 2011. For more information, visit him at tomlichtenheld.com.
Praise For…
---
Praise for Exclamation Mark*"Punctuation with pizzazz . . . Funny and spirited (and secretly educational, but nobody will notice)." —Kirkus, starred review*"With the celebrating-your-strengths angle, fun grammar lesson, and many classroom tie-in possibilities, this picturebook deserves a !!!" —Booklist, starred review*"A perfect pairing of clever design and tongue-in-cheek humor . . . This one is a must-have!!!" —School Library Journal, starred review"Rosenthal and Lichtenheld (the team behind Duck! Rabbit! and other titles) give punctuation personalities in this witty calligraphic jaunt . . . cleverly rais[ing] awareness of the ways punctuation conveys mood." —Publishers Weekly

Praise for Exclamation Mark*"Punctuation with pizzazz . . . Funny and spirited (and secretly educational, but nobody will notice)." —Kirkus, starred review*"With the celebrating-your-strengths angle, fun grammar lesson, and many classroom tie-in possibilities, this picturebook deserves a !!!" —Booklist, starred review*"A perfect pairing of clever design and tongue-in-cheek humor . . . This one is a must-have!!!" —School Library Journal, starred review"Rosenthal and Lichtenheld (the team behind Duck! Rabbit! and other titles) give punctuation personalities in this witty calligraphic jaunt . . . cleverly rais[ing] awareness of the ways punctuation conveys mood." —Publishers Weekly