Exclamation Mark (Hardcover)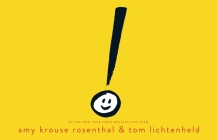 $17.99
Usually Ships in 1-5 Days
Description
---
A perfect gift for graduation!

He stood out here.

He stood out there.

He tried everything to be more like them.

It's not easy being seen. Especially when you're NOT like everyone else. Especially when what sets you apart is YOU.

Sometimes we squish ourselves to fit in. We shrink. Twist. Bend. Until -- ! -- a friend shows the way to endless possibilities.

In this bold and highly visual book, an emphatic but misplaced exclamation point learns that being different can be very exciting! Period.
About the Author
---
Amy Krouse Rosenthal and Tom Lichtenheld are NYT bestselling and award winning creators of many books they've shaped together and individually. As a team, they've created the bestselling EXCLAMATION MARK!, DUCK! RABBIT! and WUMBERS. Amy is the author of HIGHLIGHTS OF YOUR LIFE with Sara Gillingham and SPOON, illustrated by Scott Magoon, as well as many other books. Tom is the illustrator of GOODNIGHT, GOODNIGHT, CONSTRUCTION NIGHT Site written by Sherri Duskey Rinker and ONE BIG PAIR OF UNDERWARE by Laura Gehl. Tom and Amy, who are friends, both live in the Chicago area. Please visit Amy at whoisamy.com and Tom at tomlichtenheld.com.

Tom Lichtenheld is the illustrator of New York Times bestsellers Duck! Rabbit!, Exclamation Mark, Steam Train, Dream Train, Shark vs. Train, Mighty, Mighty Construction Site, and Goodnight, Goodnight, Construction Site, which has been on the bestseller list for over three years. He has also written and illustrated a number of books, including What Are You So Grumpy About?, Cloudette, and E-mergency, a Publishers Weekly and Boston Globe Best Book of 2011. For more information, visit him at tomlichtenheld.com.
Praise For…
---
"From the dynamic team that brought you Duck! Rabbit! (2009) comes this introduction to the most exuberant punctuation mark of all: the exclamation point. At first, !, a round circle with a face, doesn't like standing out in a crowd; in a line-up of seven smiling faces, which look like period marks, he's the only one with a line above his head. ! tries clever ways to fit in (flipping himself upside down, thereby squashing his tail) and even thinks about running away, until he meets a formidable force: the question mark. After a barrage of questions from ? ("Do you like frogs? Can you hula-hoop?"), ! finds his voice and tells him to "STOP!" From there, !'s confidence begins to grow and, soon, there's no stopping his unbridled joy. The spare, clever illustrations—all round, black-outlined punctuation marks with faces—are set on thick lined-paper, the kind kindergarteners use, and the overall design effect is lovely. The text is similarly simple, but a change in the size and color of the font signifies important moments. With the
celebrating-your-strengths angle, fun grammar lesson, and many classroom tie-in possibilities, this picture book deserves a !!!."
— Ann Kelley, Booklist starred review


"Punctuation with pizzazz.
How does an exclamation mark learn his purpose? Pre-readers and readers alike will giggle and cheer to see the process. The setting is a warm yellowish beige background with a faint pulpy pattern and repeating horizontal lines with dotted lines halfway between them—penmanship paper. Each bold, black punctuation mark has a minimalist yet expressive face inside its circular dot. "He stood out," explains the first page, as the titular protagonist looks on doubtfully. He tries hanging around with periods, but squishing his extension down into a spring doesn't really work; even prostrate, "he just wasn't like everyone else. Period." (Hee! Rosenthal gleefully puns instead of naming any punctuation.) Mournful, "confused, flummoxed, and deflated," the exclamation mark's line tangles and flops. Then someone unexpected arrives. "Hello? Who are you?" queries the newbie, jovially pummeling the exclamation mark with 17 manic inquiries at once. "Stop!" screams the exclamation mark in enormous, bumpy-edged letters—and there's his identity! The outburst's anxious vibe dissipates immediately (and the question mark is undaunted by being yelled at). Finally, the protagonist has "[broken] free from a life sentence." Snapping up usages that match his newfound personality, he zooms back to show the other punctuation marks. The zippy relationship between exclamation mark and question mark continues beyond the acknowledgements page." - Kirkus starred review
 
"Through a perfect pairing of clever design and tongue-in-cheek humor, Rosenthal and Lichtenheld effectively demonstrate the function of the exclamation mark (as well as the period and question mark) in this tale about a depressed punctuation mark that just doesn't fit in. On an unadorned backdrop of lined paper, several periods and one exclamation mark are lined up in a row. Clearly, he stands out in a crowd. Like Elmer in David McKee's classic tale, the exclamation mark struggles with his difference and tries to blend in. When the downcast punctuation meets a question mark who overwhelms him with inquiries, our hero finally finds his voice and tells the other to "Stop!" From there, he builds his confidence in making declarative statements and leaves the group "to make his mark." Rosenthal shines in her play on words ("It was like he broke free from a life sentence"). Lichtenheld's minimalist style is deceivingly simple; a curlicue or crumpled line, combined with an amazingly impressive circle with eyes and a mouth, is all that's needed to convey emotion when the exclamation mark is "confused, flummoxed, and deflated." This fun-to-read tale will find a ready home in language-arts lessons, reminding burgeoning elementary-age writers which punctuation personality belongs in which type of sentence–without the tedium that accompanies traditional grammar lessons. This one is a must-have!!! – School Library Journal starred review (Jayne Damron, Farmington Community Library, Farmington Hills, MI)